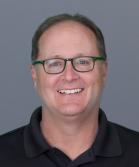 In 2013 Andrew Palmer came to PG Calc to launch Marketing Services, and to apply his "for-profit" marketing successes to the non-profit world. Andrew's experience is diverse and his knowledge of today's online media marketplace, including email and direct mail campaigns, is one of a kind. He focused his attention before PG Calc to build businesses via digital media, which included presenting marketing strategies at the C-suite level.
Andrew is an in-demand speaker on digital media, content & search marketing, as well as all planned giving marketing topics.
A member of the State Bar of California, Andrew is a graduate of the University of the Pacific, McGeorge School of Law, Sacramento, California, with a J.D. and LL.M.
Title
Director of Marketing Services