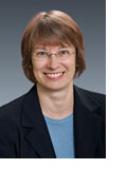 Edie has primary responsibility for assisting charities in complying with state regulations for issuance of gift annuities. She is the primary author of certain chapters of Charitable Gift Annuities: The Complete Resource Manual and also worked on the development of our gift annuity agreement forms, which are integrated in PG Calc's software. In addition to the practice of law, Edie's background includes work in government, public, and nonprofit settings.

A member of the Washington and Oregon State Bar Associations, Edie graduated from Northwestern School of Law at Lewis and Clark College in Portland, Oregon and earned a B.A. in Political Science from the University of Washington.

Edie is a prominent speaker on gift annuities and state regulation, having spoken at the Washington Planned Giving Council and American Council on Gift Annuities conferences. She currently serves on the State Regulations Committee of the ACGA and has been named co-chair of the 30th Conference on Gift Annuities in 2012.

Edie joined Planned Giving Services, a Seattle-based consulting firm started and led by Frank Minton that built an exceptional national reputation, in 1997. PG Calc acquired Planned Giving Services in August, 2005.