A Modern and Responsive Website
Your planned giving website is often the first point of contact with your donors and your planned giving program. It must educate, create trust, and build the credibility of your program. And most importantly, it must be tailored to your mission. We can help.
Complete Customization
We match your website look and feel exactly, so your donors will have a seamless experience. We ensure that site content and messaging emphasize your mission and encourage visitors to take action. Your site is completely customizable. With a PG Calc website, you can edit anything. The sophistication of our technology also allows for ease of testing, adding new content, and making changes in real-time, thus keeping your website fresh.
Total Freedom
Do you want to be intimately involved in every decision? Or do you want to be hands off, and leave the work to us?  We will give you secure login credentials so you can manage site content, should you choose to. Or, like most of our customers, you can leave site maintenance to us.  
Updated Calculations
Your planned giving website copy and calculations are always up-to-date. Gift and asset examples on the website do their own math, updating automatically with changes to ACGA tables, discount rates, or tax rates. Every time a prospective donor visits your website, gift calculations will be up-to-date, using the current discount rate and other "behind-the-scenes" formulas. 
  Website Features
Website Hosting
Strategy Sessions
Metrics & Reporting
Search Engine Optimization
Smart Landing Pages
Estate Planning Guide
Website Content
Online Brochures
GiftCalcs
Find Best Gift
100% Customization
Secure Login Credentials
---
Our Work - Client Websites
Brigham and Women's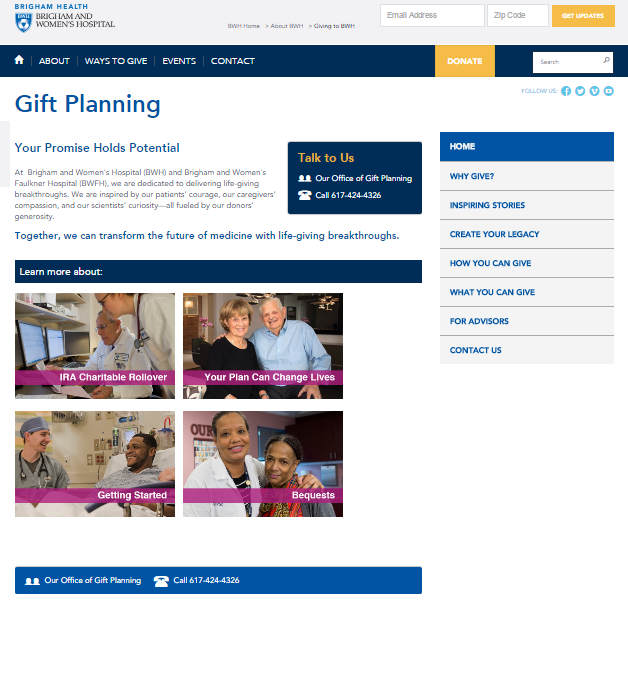 Red Cross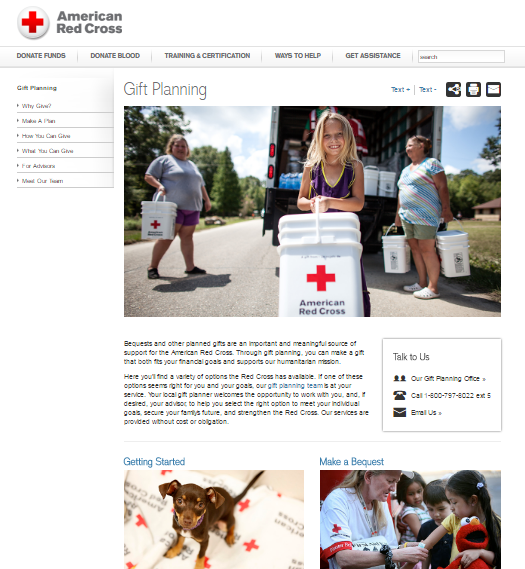 MCLA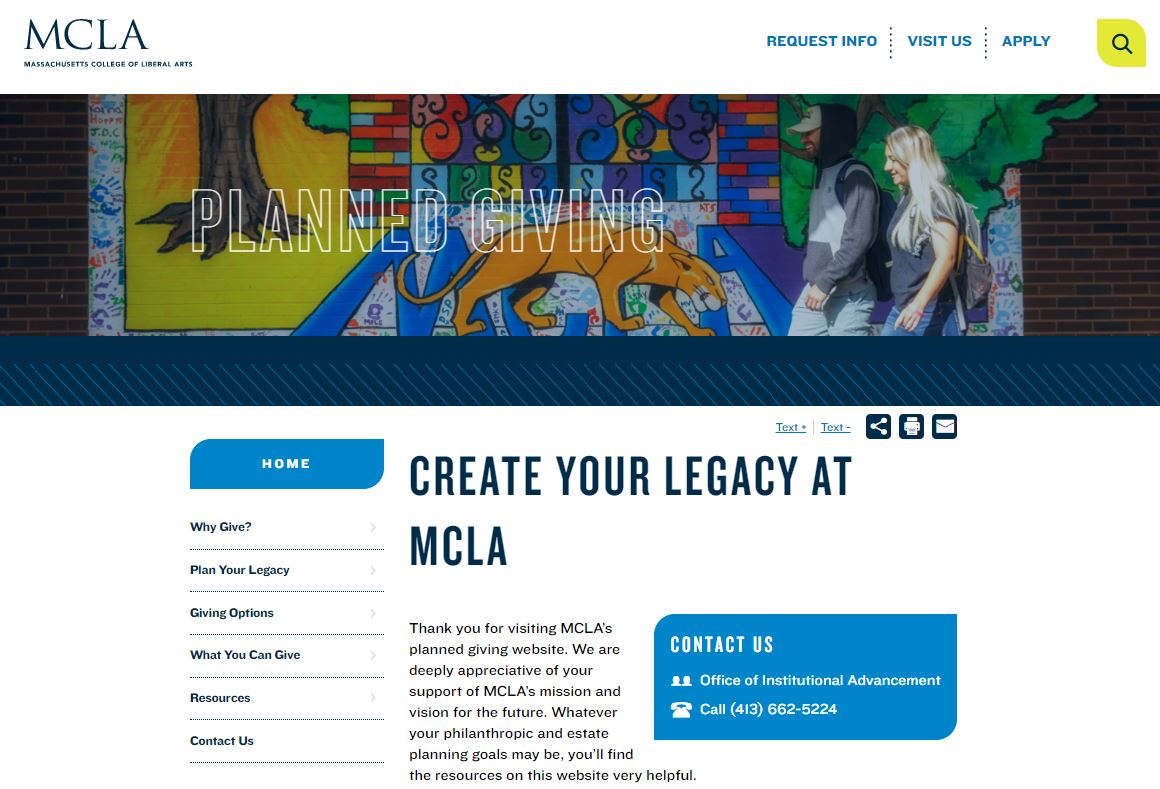 ---

PG Calc's Marketing Services Team provides us essential expertise and peace of mind . . .
. . .knowing that our website is up-to-date and content-rich, and our marketing pieces are spot-on in content, style, and effectiveness. Members of the PG Calc team are force-multipliers for our planned giving program's success thanks to their wealth of experience and knowledge. Most of all, the PG Calc Team is great to work with, always available for help, and super-responsive to our needs."
Kent Alley
Director of Planned Giving
Episcopal High School
---
What It's Like to Work With Us
We collaborate with you and your team to create a custom website incorporating your organization's mission and branding with our planned giving content and web tools. As your content provider we will make sure your planned giving narrative and calculations are always up-to-date. We eliminate the visual clutter and navigation mazes of your online presence, allowing your donors to focus on the main message and not be overwhelmed. 
Material Collection
To get started, we will request materials from you such as your style guide, logos, imagery, and mission information. This allows us to tailor the look and feel of the site and feature mission. Your work is done until just before launch.
Development and Review
We will create your mobile-optimized site integrating your voice and message with our up-to-date planned giving content. After our testing process, you step in for review and any necessary revision. 
Launch and Reporting
You will have access to the content management system and have the option to make edits. But you don't have to. It is our responsibility to make any and all updates and changes. With analytics, we will learn donor behavior and provide recommendations for improvements. It's a hassle-free experience.
---